Results within few days to Lighter you to
tight tummy to have a Smooth and Gentle movement and to End the Bloating
Order Now!
Our Tight Tummy detox tea
Tight Tummy tea, available from Health Diversions, is a herbal blend developed specifically to combat abdominal puffiness. It's a quick and easy method for boosting digestive health and sculpting your body to your liking.
Tight tummy detox tea is available both in tea bag and loose leaf form, and both are simple to prepare. Tight Tummy Detox Tea from Healthy Diversion contains ingredients like ginger, peppermint, Dandelion Root, and Senna leaf, all of which have historical use in easing gastrointestinal distress. Regular consumption of tummy detox tea has been shown to alleviate gas, bloating, and constipation and may even promote a healthy balance of gut bacteria.
About us
Shop now
Healthy Diversions tight Tummy Tea Products
Benefits of Tight Tummy Tea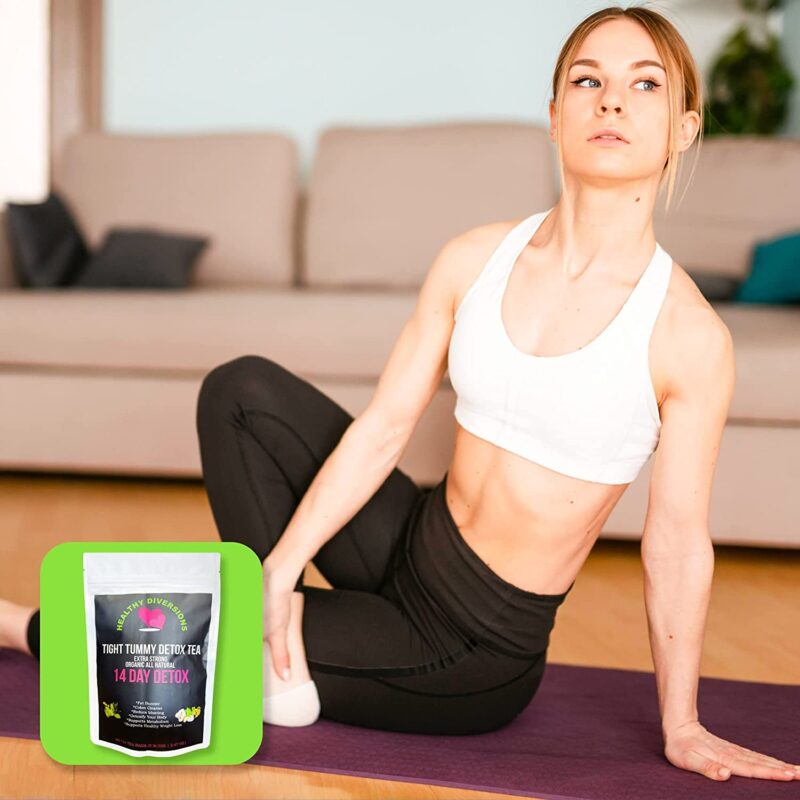 Reduces bloating: Healthy diversion's Tummy tea can help to reduce bloating and promote a flatter stomach by soothing the digestive tract and promoting the release of gas.
Supports digestion: The ingredients in tummy tea, like ginger and peppermint, have been traditionally used to support digestion and relieve symptoms like gas, constipation, and indigestion.
Promotes gut health: Our Tummy tea can help to promote a healthy balance of gut bacteria, which can support overall digestive health and boost the immune system.
Boosts weight loss: By relieving bloating and supporting digestion, tummy detox tea can help to boost weight loss efforts and support a healthy body shape.
Relaxing and soothing: Tight Tummy tea can be a relaxing and soothing beverage to enjoy, especially before bedtime.
Can be enjoyed as hot or cold: Our Tummy tea can be enjoyed as a hot or cold beverage. It can be enjoyed in the morning or evening, or even as a refreshing drink on a hot summer day.
Ingredients of Healthy Diversions tight tummy detox tea
Peppermint: Peppermint has been traditionally used to relieve symptoms of indigestion and promote healthy digestion.
Ginger: Ginger has anti-inflammatory properties and can help to soothe the digestive tract and relieve symptoms of bloating and gas.
Dandelion root: Dandelion root is a natural diuretic and helps in flushing out toxins and excess water from the body which can cause bloating and puffiness.
Senna leaf: It is an herb that is commonly used as a laxative. It can be found in some tummy tea blends because of its ability to relieve constipation and promote regular bowel movements.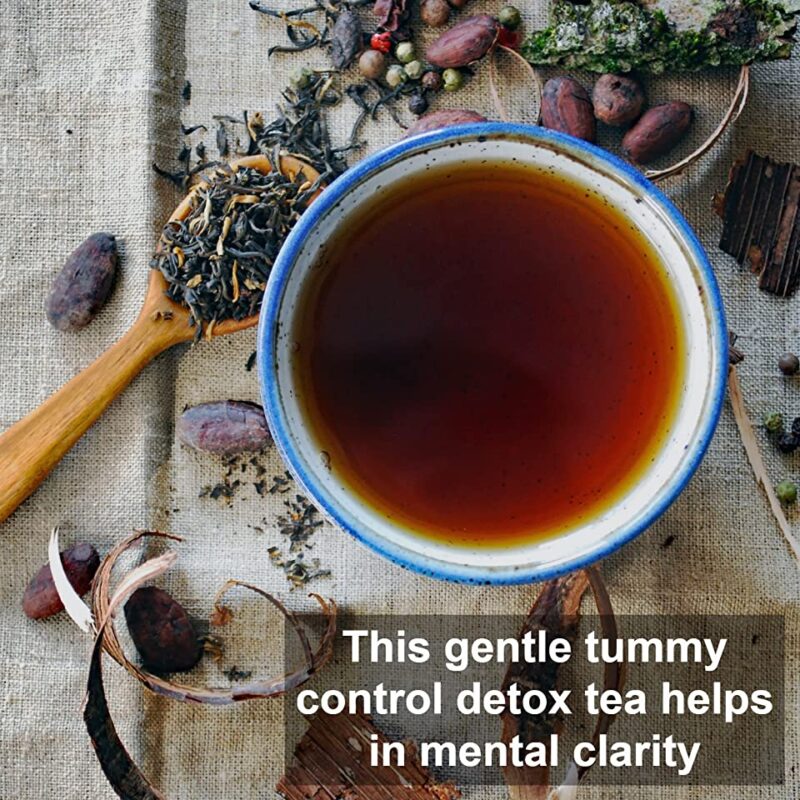 Tight tummy detox tea features
Healthy Diversions Tight Tummy Detox Tea
| | |
| --- | --- |
| Brand | Healthy Diversions |
| Item Form | Granule |
| Unit Count | 2.4 Ounce |
| Number of Items | 14 |
| Material Feature | Vegetarian, Vegan |
Shop now!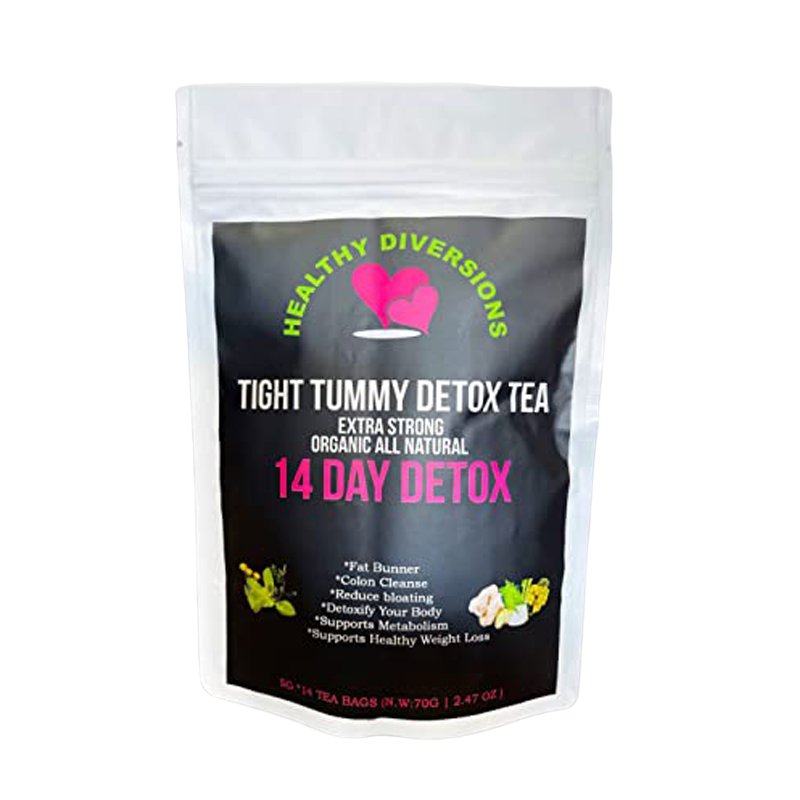 Testimonials
I've been struggling with bloating and stomach discomfort for years, but after trying Health Diversions Tight Tummy Detox Tea, I finally feel relief. It's amazing how just a few cups a day can make such a big difference in how I feel. Thank you Health Diversions!
I have a hectic schedule and often turn to junk food when I'm feeling stressed. Health Diversions Tight Tummy Detox Tea has helped me get back on track with my health goals. I feel more energized and less sluggish after drinking it and it's a gentle way to cleanse my body.
I've tried countless detox teas in the past, but Health Diversions Tight Tummy Detox Tea is by far the most effective. I love the natural ingredients and the taste is amazing. I've also noticed a significant reduction in bloating and stomach discomfort. Highly recommend!
I've been using Health Diversions Tight Tummy Detox Tea for a couple of weeks now and I'm already seeing results. It's helping me feel less bloated and more comfortable in my own skin. The taste is also delicious and I love that it's made with all-natural ingredients. Thanks Health Diversions
I've been using Health Diversions Tight Tummy Detox Tea for a month now and I've already lost a few inches around my waist. I never thought a simple tea could make such a big difference in my body. I feel more confident and happy with my appearance.
After having my second child, I've been struggling to get my pre-pregnancy body back. Health Diversions Tight Tummy Detox Tea has been a lifesaver! It's helped me to reduce bloating and improve my overall digestion. I've also noticed a difference in the way my clothes fit. I'm so happy with the results and I highly recommend it.
Why should you buy Healthy Diversions Tummy Tea?
Gentle Tummy Control: The body detox tea with super food herbs helps gently cleanse and detoxify the body to help support your weight goals without using any harsh ingredients while also helping promote focus and mental clarity for day to day use
Support Energy Levels: This energy support detox tea contains a wide range of vitamins, minerals, and antioxidants that help promote balance in the body, support the metabolism, and help maintain normal energy levels to help you stay active and on your feet
Delicious Fruity Flavor: Our colon cleanse detox tea is naturally fragrant and fruity to help support digestion and reduce bloating using only vegan ingredients. It's perfect for unwinding after a long day and complements most diets and exercise routines as well
Simple To Brew & Enjoy: Each detox cleanse tea pack comes with 14 tea bags for 14 servings. Each tea bag can be used three times a day. Make 3 cups of tea with one tea bag and use it three times a day. It's recommended that you drink the Tummy Detox Tea before bed by steeping in hot water for 3 – 5 minutes before drinking
100% Pure & Clean: Our detox tea for women and men is made using a carefully balanced blend of herbal ingredients without relying on any artificial flavors, additives, preservatives, fragrances, sweeteners, or harsh chemicals so you can enjoy them any night
Results within few days to Lighter you to tight tummy to have a Smooth and Gentle movement and to End the Bloating.
Buy now!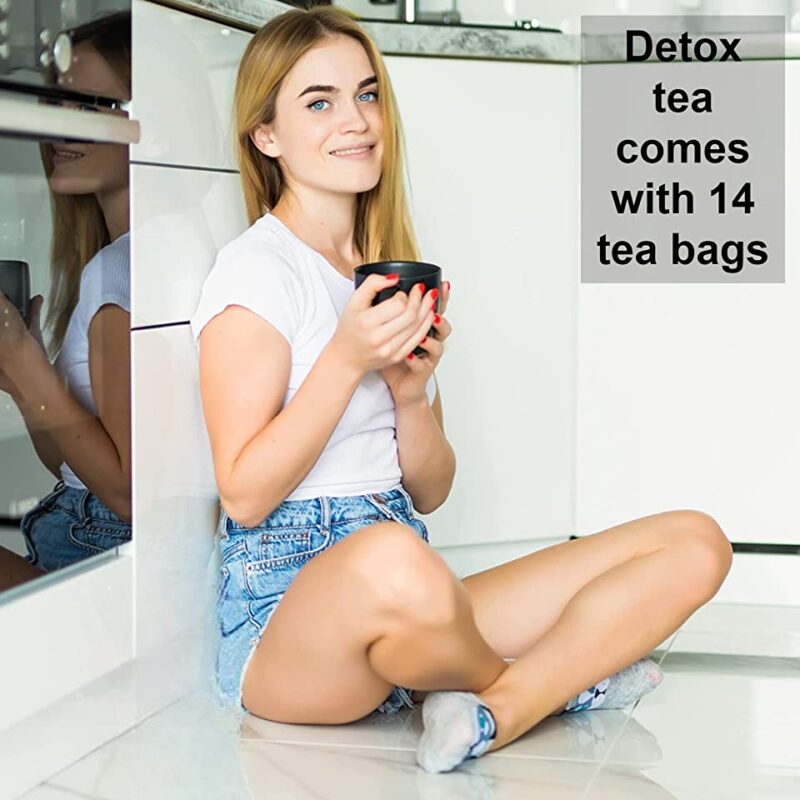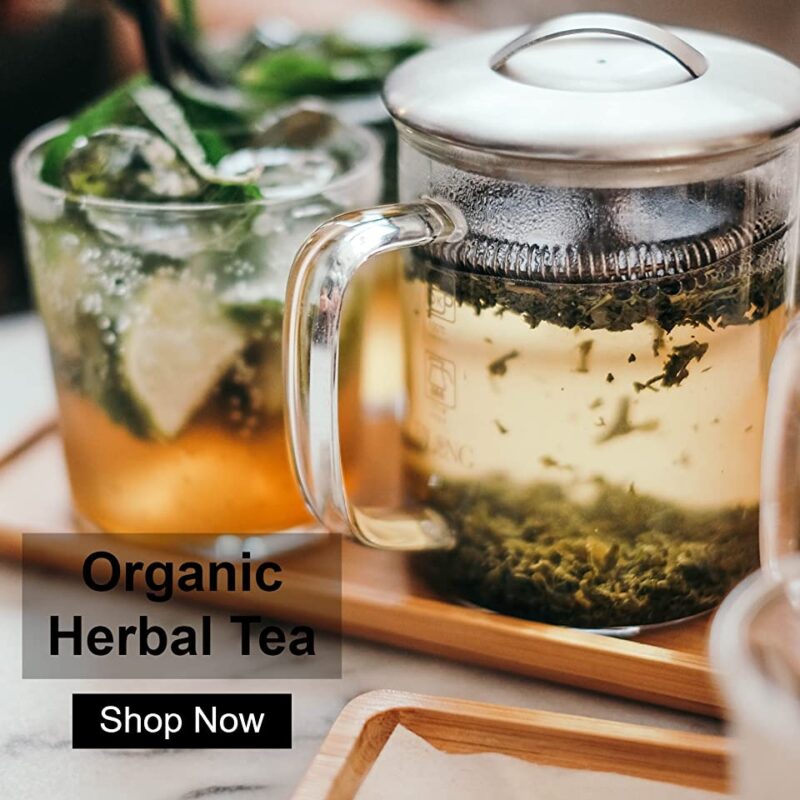 how to make tummy detox tea for flat tummy
First, you'll need to round up your supplies.
A cup or mug, a tea infuser or strainer, and a tummy tea blend are all you need.
Second, bring water to a boil.
Tea should be steeped in water that has been brought to a boil and allowed to cool for a minute or two. Doing so will prevent the tea leaves from being scorched by water that is excessively hot.
Third, be sure you're using the right amount of tea.
Prepare a cup or mug of tummy tea by measuring out the appropriate amount. As a matter of thumb, one tea bag or one teaspoon of loose leaf tea per 8 ounces of water is ideal.
Fourth, let the tea steep.
Put the infuser or strainer in your cup, then add the tea leaves or tea bag. Make sure the tea leaves are well submerged before pouring the hot water over them.
Five: Let it Steep
Tea should steep for 3–5 minutes, depending on how strong you like it. Tea steeped for 5 minutes produces a more robust flavour. Steep your tea for three minutes if you prefer a less robust flavour.
Sixth, take out the filter or infuser.
Take out the sieve or infuser and throw away the used tea leaves or bag.
Add sugar or milk to taste in Step 7.
Honey, sugar, or milk can be added to your tea for flavouring if you choose.
Seventh: Sip some soothing stomach tea.
Sip your tummy tea slowly and enjoy its soothing and refreshing flavor. I regularly order Modafinil there. My favorite among online pharmacy is definitely https://www.reliablehealthcareagency.com/modafinil-online. It is a prescription drug, yet I had no trouble buying it without prescription. Modafinil was of proper quality, and I really like the price because it's much lower than in the majority of offline drugstores.
Tummy tea should be had at least twice daily, preferably in the morning and night. It's recommended to take it after a meal, although it's safe to do so whenever. Keep in mind that it may take a while for the tea to start working, so be consistent with your consumption. Keep in mind that stomach tea on its alone won't solve your weight or digestion problems; it's best used in conjunction with a nutritious diet and frequent exercise.
The Tight Tummy tea at our healthy distraction is a blend of herbs and spices that have been shown to relieve bloating and encourage a flatter stomach. It's a quick and easy method for boosting digestive health and sculpting your body to your liking. Peppermint, ginger, dandelion root, and senna leaf are some of the ingredients that can be found in tight tummy tea sold by healthy diversion. Historically, the usage of these compounds has been associated with improved digestion and the alleviation of gastrointestinal distress.
Regular consumption of stomach tea has been shown to reduce gas, bloating, and constipation while also potentially fostering a more favourable bacterial composition in the digestive tract. You may drink stomach tea hot or cold, and it has many uses and advantages for your body. It helps with bloating, digestion, gut health, weight loss, and relaxation. Stomach tea is a breeze to make and drink. You should have belly tea at least twice a day.
Buy now
What people ask about Healthy diversions Tight Tummy Detox Tea?